Let's take a look at "what is a biofireplace" and why it is a great modern solution for your interior. When it comes to heating your home, nothing beats the ambiance and beauty of a fireplace. A romantic dinner, a glass of red wine (or a cup of aromatic tea) and the hypnotic magic of dancing flames are a great way to pass the time on a cold winter evening. The owner of a traditional fireplace, however, will tell you that the less glamorous side involves chopping wood and clearing away the ashes. Not to mention the fact that many do not even have the opportunity to install a chimney (for example, the owners of city apartments). There is also the question of cost: traditional fireplace inserts are much more expensive, plus additional costs for installation and related installation materials are required.
In the case of biofuel fireplaces, all this is not required, and this is not their only advantage. During combustion, biofuels do not emit toxic substances, unpleasant odors, smoke or soot. Therefore, they do not require additional ventilation, any chimney pipes or connection to utility networks. But since we are talking about a real flame, not an imitation, we strongly recommend that you purchase and install a fire extinguisher nearby!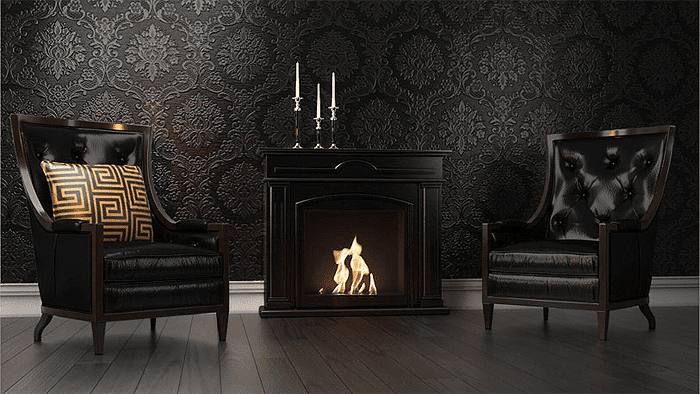 How does a biofireplace work?
Biofireplace is both a decorative and ecological heating device that runs on bioethanol. The biofireplace consists of two main parts: the fuel block (biocontainer) and the body of the biofireplace. An interesting fact is that the body of the biofireplace is made of boiler steel and painted with a specially developed paint.
The fuel block is a functional part of a biofuel fireplace. It is in the container that we fill the fuel and ignite it to start work.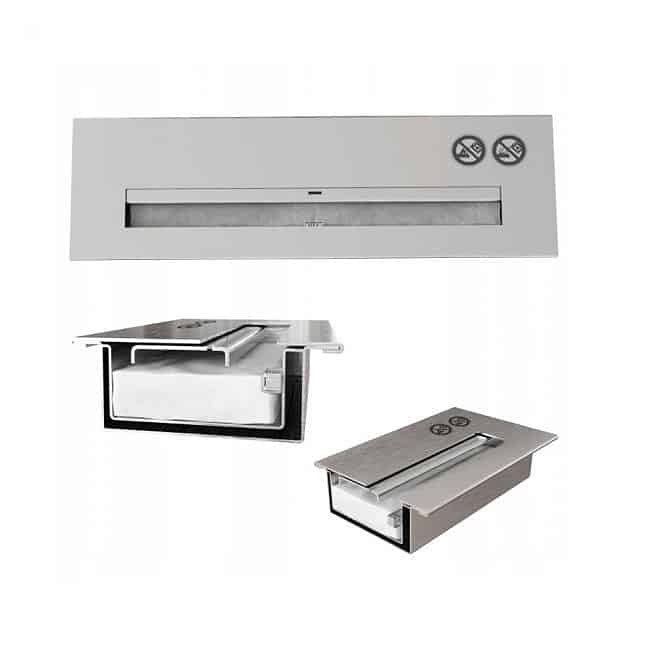 The biocontainer flame line is a rectangular hole through which we fill the container and ignite the fuel to start the biofireplace. Since the flame of a biofireplace burns for the entire length of the fire line, this is an important indicator, because the biofuel consumption, height and shape of the flame depend on the width of the fire line.
The container also has a regulator with which you can adjust the height of the flame and extinguish the biofireplace.
The main part of the biocontainer is an absorbent insert that absorbs biofuel and allows you to protect the container from spilling biofuel in case of accidental overturning.
What is bioethanol?
Bioethanol is an environmentally friendly fuel that is produced from vegetable crops rich in sugar. For the extraction of which usually use beets, cane or sawdust. Thus, only natural components get into the composition of biofuels (no chemicals are added). When burning, bioethanol does not emit elements characteristic of firewood and coals: sparks, soot or smoke. In the process of burning fuel, only a small fraction of carbon dioxide and water vapor is produced. That is why the device does not need an extractor hood and a chimney.
How long does a biofireplace burn?
Depending on the size of the biocontainer, 1 liter of bioethanol burns for 2-5 hours.
Can a biofireplace be used as the main heating for a room?
Since the biofireplace does not need an exhaust, it means that all the heat that the fuel block will release during combustion will go directly into the room in which it is located. But everything will depend on two interrelated important factors – the size of the biocontainer (fuel block) and the size of the room.
What then is the efficiency of a biofireplace? According to experts, a working biofireplace generates heat power equal to the power of two electric heaters. Thus, the efficiency of the biofireplace is 90-95%. If we are talking about power, this is approximately 1.3 kW for a 30 cm fuel block. Which means that it may well raise the temperature by a couple of degrees in a room measuring 18 square meters, but still cannot be the main source of heat.
NOTE! Do not forget to ventilate the room from time to time, saturating it with fresh oxygen, but avoid drafts
Biofireplaces require oxygen to operate, for this reason, you should either use it in a fairly open space or, when using it in a room with a small area, always open a door or window. If you experience headaches, congestion or discomfort, then this indicates insufficient air circulation in the room.
What should be the size of the room?

One of the most exciting questions of all is what size should the room be in order to place a biofireplace in it? Let's find out!
As we discussed earlier, a biofireplace cannot replace the main heating in a house, but it definitely warms and absorbs oxygen, which means that it makes no sense to put a biofireplace with a particularly large biocontainer in a small room. Otherwise it will become too hot and stuffy. Below we have provided a table with recommendations for choosing a biocontainer, taking into account the size of the room.

When choosing a biofireplace on our website, you will be able to see in the card of the selected biofireplace which biocontainer it contains
How much does a biofireplace cost?
Fortunately, the price range for biofireplaces is very wide. The price of biofireplaces can start from 50€ and reach more than 1500€, which means that everyone can find a suitable option for their budget. For example, our assortment includes over 100 different biofireplaces and you can get acquainted with them by going to the store page at this link.
What types of biofireplaces exist?
We will describe 5 main types of biofireplaces:
1. Table biofireplaces
The smallest is the table biofireplace. They can be 30*30*20 cm in size and weigh only 4 kg. The advantages of small fireplaces are that they can be moved from room to room, they are mobile, do not take up much space and are ideal for a gift. You can create a cozy atmosphere with a live fire in any corner of your home, besides, mini-fireplaces do not require a lot of fuel – the volume of the fuel block in the smallest is only 200 milliliters!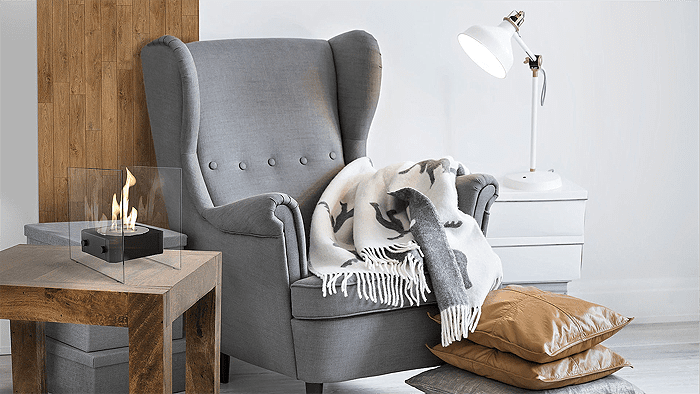 2. Freestanding biofireplaces
A freestanding biofireplace will not only fit perfectly into any interior, but will also increase its attractiveness. Although it is larger than a table biofireplace, it is still mobile and can be moved to another room if desired. Biofireplaces are autonomous and do not require special assembly. If the weather conditions are favourable, it can become a pleasant decoration of the terrace or garden.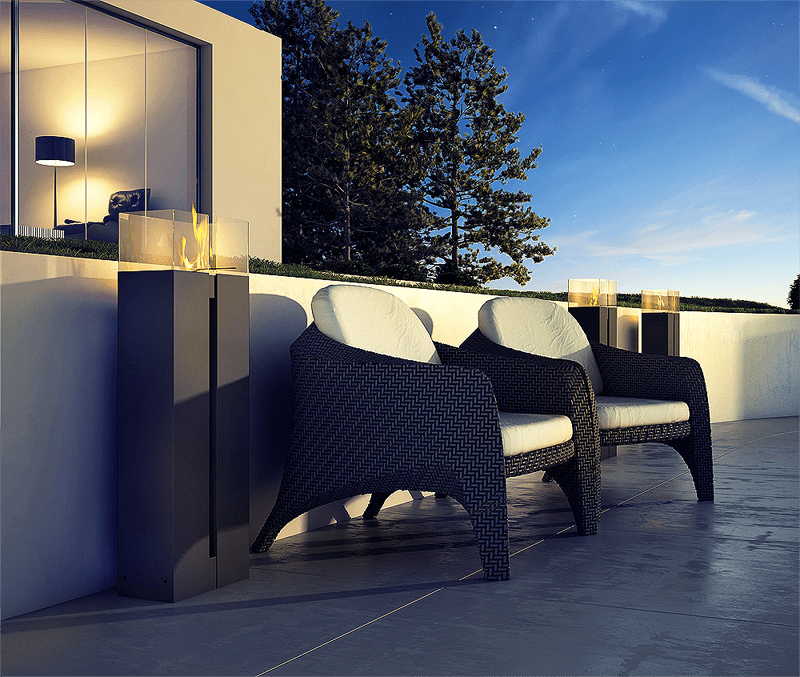 3. Portal biofireplaces
The portal type of biofireplaces is one of the most popular, due to its similarity with a classic fireplace. But unlike classic fireplaces, biofireplaces do not need a chimney, which means they can be placed in a city apartment. Their aesthetic English design will be a great decoration for your living room, next to which it will be nice to spend cold evenings with a glass of wine or a cup of hot tea and your favorite book.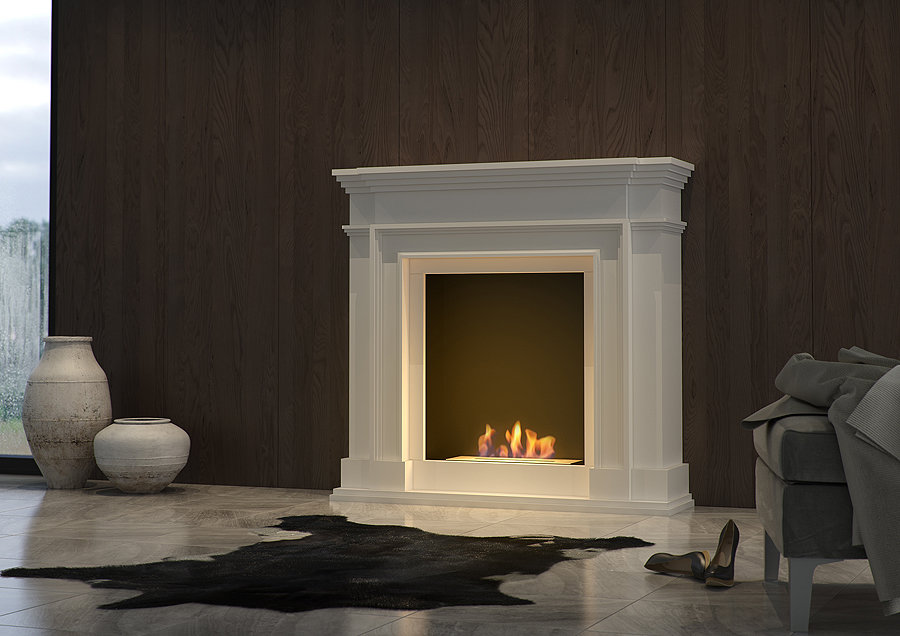 4. Wall mounted biofireplaces

A wall mounted biofireplace will be a great option if you want to install a biofireplace "at eye level". Wall mounted biofireplaces are divided into two types – which can be simply hung on the wall and which can be built into the wall (or build a special niche for them).
In the first case, you will simply need to drill holes in the wall, insert the dowels and hooks provided in the kit and hang the biofireplace on them (make sure in advance that the wall you have chosen can withstand the weight of the biofireplace).
In case you want to build a niche for a wall biofireplace, you can do it yourself (you can read our tips on how to build a biofireplace niche on our blog) or seek the help of professionals.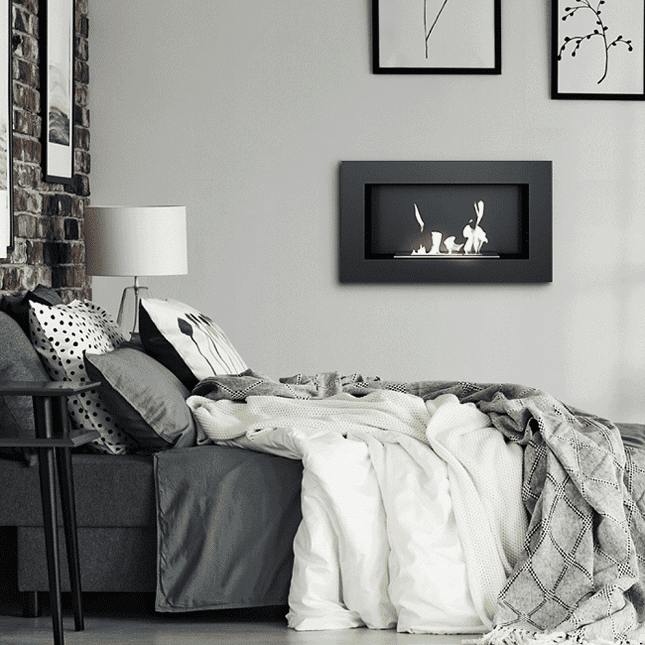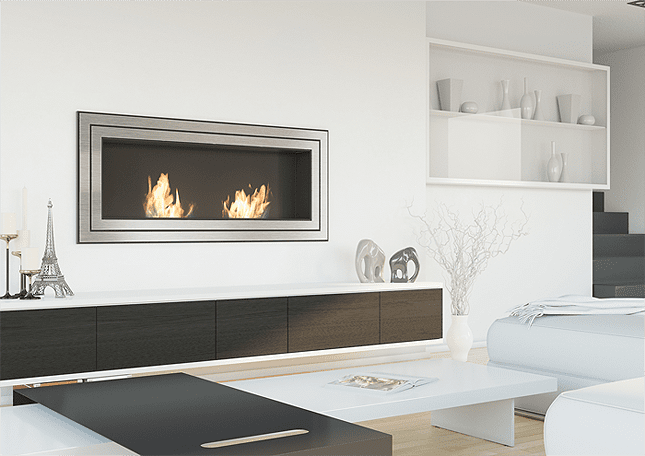 5. Corner biofireplaces
And last but not least – corner biofireplaces. Corner biofireplaces built into the wall are the most unusual type, their special angular shape will become the highlight of your interior, which can be admired from several rooms at once.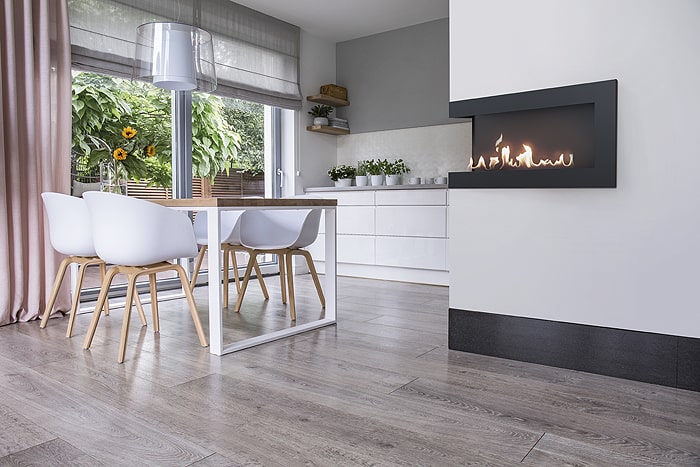 It is important to install the biofireplace on a flat surface
Is a biofireplace safe and what is a TÜV quality certificate?
Biofireplace is not only a beautiful element of decor, but also a real fire! Be sure to read the instructions for use attached to the product before using.
You can read about the TUV quality certificate in our article here.